Thursday was a remarkably easy day for
Father Patrick
, as has been the case ever since breeding season began. Because he had a tough training day the day before, he did nothing in the morning other than while away the hours in his stall at the farm of trainer Jimmy Takter until he was ready to be taken to Walnridge Farm in Cream Ridge, NJ to perform his breeding duties.
From door to door, including travel and the time he spent in the breeding shed, took less than an hour. That's all it took to collect his sperm yesterday and have him bred to three mares.
"He's very comfortable with his routine," said Walnridge General Manager Dr. Richard Meirs. "He's like a working machine. He has been very cooperative with his new career and his diversity of careers." Takter said he trains Father Patrick every Monday and Thursday and, not wanting to give away any of his training secrets, declined to disclose what he does the rest of the week. After some hard work the day before, yesterday was a rest day.
He is brought to Walnridge on days when there are mares on his list to bred to that are ovulating. Yesterday was one of those days. It is 11.4 miles from Takter's training center in East Windsor, New Jersey to Walnridge and the trip takes about 20 minutes. Once at Walnridge, he is led off the trailer, taken into the breeding shed and does his business. The entire process takes about five minutes. When he's done he gets right back on the trailer and heads home.
The process was slowed just a bit yesterday as they had to wait a few minutes for Meirs before they could begin. While waiting, Father Patrick stood in a parking lot, knowing what was to come, knickering with delight at mares in a nearby field. The semen collected yesterday was used to breed to three mares, Cee Bee Yes, Be My Baby, and Magic Feeling.
"People have this misconception that horses have to be kept on a particular set schedule," Meirs said. "This is a breath of fresh air for him. He loves it, he enjoys it. He's holding his weight well and I think this can only help him in his racing career because it helps with his attitude." In years past, Father Patrick, last year's champion 3-year-old male trotter, would have almost certainly been retired after his 3-year-old season as, with a horse of his caliber, there is more money to be made breeding than racing. But when Jeff Gural stepped in and got others to join him to pass rules that bar the offspring of 4-year-old stallions from racing in many major races owners of 4 year olds had little choice but to keep their horses racing. Adam Bowden of Diamond Creek Farm, someone in the industry who definitely thinks outside the box, bought Father Patrick as a stallion and saw no reason why he couldn't breed and race this year. After all, it is something that is done regularly with top horses in Europe. The only thing he would do different than he might have done with a normal stallion was to limit the size of his first book. Bowden announced early on that Father Patrick would go to just 60 mares.
He would leave everything else up to Takter, whose mission was to focus on getting Father Patrick back to the races, hopefully, without missing a beat. "We're doing nothing differently with him," Takter said. "He's training exactly like my other 3 year olds and older." Takter said that Father Patrick has had a good winter and is right on schedule. He thinks 2014 might have just been a warm-up for what the horse can accomplish this year.
"Yannick (Gingras) trained him, sat behind him for the first time this year (Thursday) and they went a mile in about 2:13," Takter said. "He's always been a big fan of Father Patrick and he said he never felt this horse as good as he was this day. He is happy. He is having the best time of his life. I wouldn't be at all surprised if he absolutely dominates the sport this year. I know that is a big statement but I know how good this horse is."
When it comes to his breeding career, that, too, could not be going any better. He already has five mares who are confirmed to be pregnant. Bowden has been so encouraged by the response he has gotten from fellow breeders who want to send their mares to Father Patrick that he said it's entirely possible he will expand the book beyond the original 60 and allow him to be bred to as many as 15 more mares. The stud fee is $30,000.
Some believe that once a sire has discovered the joys of you know what they will be less likely to put out their best efforts on the racetracks. All the participants involved with father Patrick don't believe that will at all be the case because of his temperament and competitive drive.
Originally, the idea was to breed and race for only one year, with Father Patrick becoming a stallion only as a 5 year old. But Takter said that with everything having gone so well that plan might be changed.
"I think this is exciting," he said. "If it all works out good and he races as well as we think he will this year I don't see any reason why we can't do the same thing next year. Why not? I agree with Gural's philosophy. The sport definitely needs high-profile horses. We need to show off these kind of horses."
The only question yet to be answered is how Father Patrick will do on the racetrack this year. If he performs up to Takter's expectations the experiment to breed and race will be considered a smashing success, something that will no doubt encourage others to do the same.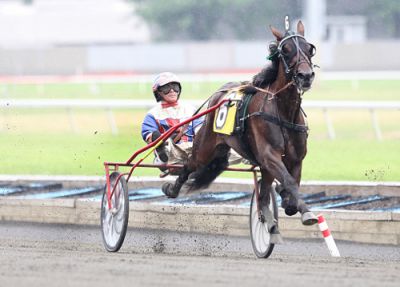 Shake It Cerry

Shake It Cerry to be Bred to Father Patrick Through Embryo Transfer
.
Talk about a dream couple. Both of Jimmy Takter's champion 3-year-old trotters of 2014, mare
Shake It Cerry
and horse
Father Patrick
, will compete on the racetrack this year, but that hasn't prevented the Takter team from setting up a mating of the two.
Father Patrick is pulling double duty and will breed and race this year. That gives him the opportunity to be bred to Shake It Cerry, which will be done through an embryo transfer, with another mare carrying the foal.
"Believe me, I am not a great fan of embryo transfers. But we don't do it that much in this sport so we don't really have a lot of statistics out of it," Takter said." There is a bias against yearlings that were the byproduct of embryo transfers at the yearling sales, but Takter does not have to worry about that because he has never had any intention of selling any of Shake It Cerry's foals.
"Shake It Cerry is owned by a group of people that would never sell any of her foals," Takter said. "If this would be a horse at a place like Hanover, where they would market the horse and have to consider how this would impact its value, they would never do it. We'll take a couple of eggs out of her and we see what happens. If we get a foal, we get a foal. It would be stupid not to."
Walnridge Farms General Manager Dr. Richard Meirs says he sees no reason why the Shake It Cerry-Father Patrick mating won't work.
"I think the thing about embryo transfer horses not working out is an old wive's tale," he said. "The science has gotten much better over the years and a lot of foals that are the product of embryo transfer are very healthy, very viable."