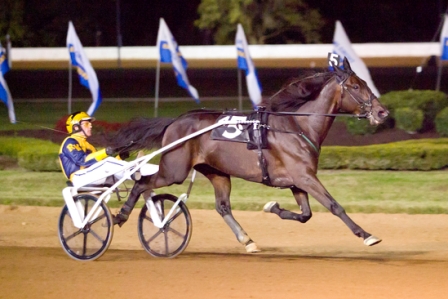 Harness racing's top ranked horse San Pail made his Bluegrass debut an impressive one on Saturday night with a dominant win in the $145,000 Allerage Farms Open Trot highlighting a stakes-packed Red Mile card.
Lining up from Post 5 in the deep field of seven - a field with over $10 million in combined earnings - driver Randy Waples left for position and settled in third as Lanson (Mike Lachance) and Take My Picture (David Miller) settled in front of San Pail through a :28 opener.
As the group of trotters hit the backstretch in straight alignment, Waples right-lined San Pail and managed to clear to the front without any issues. The half-mile point was reached in an honest :56.
Around the five-eighths marker, Arch Madness (Brian Sears) made the first commitment to the outside from fourth, and that move flushed cover in the form of Take My Picture as Waples rated San Pail through a 1:25.3 third station. The sprint was on San Pail kicked into another gear in the lane, flying home in :26.3 to win in 1:52.1.
Longshot Hot Shot Blue Chip (John Campbell) closed ultra-impressively to nip Arch Madness for second with Lucky Jim (Andy Miller) recovering from an early break to finish fourth.

Trainer Rod Hughes thanked his entourage for making this all possible after the win, and also thanked the Red Mile for putting on the event. Hughes admitted he was a bit worried when San Pail headed to the gate.
"He was a little hot scoring down, but Randy gets along with him so well," noted Hughes. "The slow first half also concerned me a bit as you know all of these horses can sprint home but he closed a ton."
Hughes noted to Sam McKee that the ship to Lexington went quite well as in the past 'Pail' would get off his feed at times with long trips, but he was himself today. The trainer couldn't say enough about what his prized pupil means to him.
"He means everything to me, he's been great for me. It's a dream come true, watching races here as a kid and now being here talking to you. It's just awesome."
Glenn Van Camp of Port Perry bred and co-owns the seven-year-old son of San Pellegrino-Village Beauty, who won for the 47th time in his career, with trainer Rod Hughes of Dunsford, ON. The victory improved the gelding's 2011 record to 12-2-0 in 14 starts, and the winning payday pushed his lifetime earnings to $2,651,715.