BLUEGRASS SERIES - THREE-YEAR-OLD COLT TROTTERS
Tom Cango Captures First Bluegrass
The first major stake event of the Grand Circuit finale at the Red Mile went to Tom Cango and driver Brian Sears, who guided the colt to his third win in 12 tries in the first of three $102,000 divisions of the Bluegrass Stake.
The Chancellor (Andy Miller) was on the front through fractions of :28.3 and :57.2. Russell Hill (John Campbell) came first up to apply pressure and Brian Sears had Tom Cango on his back spotted second over for the 1:27.1 three quarters. At the top of the stretch, Sears tipped off that second cover full of trot and a :28.2 closing panel allowed Tom Cango to hold off Howthehaloareyou (George Brennan) and Airzoom Lindy (Tim Tetrick) for the 1:55.4 score.


"He seems to have come around right at the right spot," said owner Jules Siegel after the win, who indicated that the colt would be headed for the Breeders Crown eliminations next week at Woodbine Racetrack. Trained by Jim Campbell, Tom Cango (Tom Ridge - B Cor Tamgo) has now banked over $465,000 for his connections.
Judge Joe was just announced as scratched lame from his division.
Neighsay Hanover Says Yes In Bluegrass
Even money favourite Neighsay Hanover gave driver Brian Sears his second straight victory in the second division of the $102,000 Bluegrass Series.
With 78-1 Citation Lindy (Ray Schnittker) on top of the field through a :28.4 opener and :57.2 half, Broadway Bistro (George Brennan) made his move from third and cleared easily to the lead with Photoforwin (Rick Beinhauer) pressing through the 1:26.1 third station as the early leader backed through the field.



Sears was situated second over with Neighsay Hanover, tipping the trotter into the three path at the top of the stretch and eventually powering past Broadway Bistro for 1:55.1 half-length win.
"Up in Canada he got a little 'hikey', it's one of the reasons I've been driving him," said trainer Trond Smedhammer after the win. "That, and Brian's been booked on Muscle Hill.
Smedshammer confirmed that the Breeders Crown is next up for Neighsay Hanover (Muscles Yankee - Nans Conway), who notched his fourth career win for Ted Gewertz and Willow Pond LLC of New York, Leif Alber and Martha Frank of New Jersey.
Explosive Matter Dynamite In Bluegrass
Normally a three-year-old trotter that has put away nearly $1.5 million lifetime in 18 starts is the divisional headliner. Don't fault Explosive Matter for coming along the same year as Muscle Hill and having to play second fiddle. On Saturday afternoon, Explosive Matter showed he's easily the best of the rest as he cruised in the third division of the $102,000 Bluegrass Series for three-year-old colt trotters.
My Back Pages (George Brennan) and Swan For All (Jody Jamieson) were the early bidders for the lead through the :28 opening quarter, with Brennan clearing early and then Jamieson looping Swan For All back around as Ron Pierce has Explosive Matter out and charging hard for command.
Once Pierce cleared, he was not able to relax on the front as P J Clark (Andy Miller) applied immediate pressure to the leader and was right up to his throat for the 1:25.3 third panel. As the field turned for him, Explosive Matter put away that challenge and began to edge clear of the pack. Pierce sat confidently as Explosive Matter was a wrapped-up winner in 1:52.4 by two and a half lengths with Swan For All in second and P J Clark in third.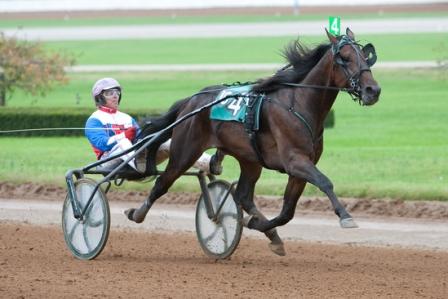 "We're a clear number two," conceded trainer Noel Daley after the win. "Obviously Muscle Hill is a great horse, and Explosive Matter is a good horse. It's good to win when he's not around."
Daley trains Explosive Matter (Cantab Hall - Fireworks Hanover) for Adam Victor And Son Stable of New York, NY. Explosive Matternever finished worse than fourth in 18 lifetime starts, with 10 wins, six seconds, one third and one fourth-placed finish.