Resultat Preffered
Maple Leaf Trotting Classic - Final
Free For All 1.609m auto Purse: $ 730 000

7 -- Trot, purse $730,000 (EX, P3, TR)
D-MAPLE LEAF TROT - FINAL - OPEN.


N:r Plac. Häst                  Kön Härstamning                        Kusk             Tränare                 Tid  Dist. Odds     Pris  


 9   1    San Pail              v   San Pellegrino - Village Beauty    Randy Waples     Rodney Hughes        1:51.1  1609    43  365 000   
 5   2    Arch Madness          v   Balanced Image - Armbro Archer     Brian Sears      Trond Smedshammer    1:51.4  1609    14  182 500   
 2   3    Hot Shot Blue Chip    h   Revenue - Hustle N Muscle          David Miller     Jonas Czernyson      1:52.2  1609   724   87 600   
 4   4    Define The Word       v   Duke Of York - Venice Holiday      Paul Macdonell   John Bax             1:53.0  1609   298   58 400   
 1   5    Il Villaggio          h   Yankee Glide - Dance To Market     Jody Jamieson    Blair Burgess        1:53.1  1609   117   36 500   
 8   0    Premiere Steed        s   Workaholic - Goulette Steed        Sylvain Filion   Fabrice Souloy       1:53.2  1609   927       
 3   0    Enough Talk           v   Enjoy Lavec - Fashion Setter       Mark MacDonald   Nat Varty            1:53.2  1609   452       
 6   0    Four Starz Speed      v   Conway Hall - Lotstoliveupto       Scott Zeron      Ron Burke            1:53.2  1609   954       
 7   0    Triumphant Caviar     h   Sj's Caviar - Ens Tag Session      Luc Ouellette    Christopher Beaver   1:54.0  1609   827       
10   0    Lucky Jim             v   S J's Photo - Hawaiian Sierra      Andy Miller      Erv Miller           1:55.4g 1609   119   

Time: 13, 27.1, 55, 1:23.4, 1:37.3, 1:51.1 (Temperature: 30, Condition: FT, Variant: 0)
 
1st  San Pail            (br,g,7 - San Pellegrino-Village Beauty-Balanced Image)
                         Owner: Glenn Van Camp,Port Perry-Rodney M Hughes,Dunsford,ON
2nd  Arch Madness        (b,g,7 - Balanced Image-Armbro Archer-S Js Photo)
                         Owner: Marc D Goldberg,Woodmere-Willow Pond LLC,Hewlett,NY
3rd  Hot Shot Blue Chip  (b,g,5 - Revenue S-Hustle N Muscle-Muscles Yankee)
                         Owner: Thomas R Dillon,Anson,ME

San Pail wins the $730G Maple Leaf Trot.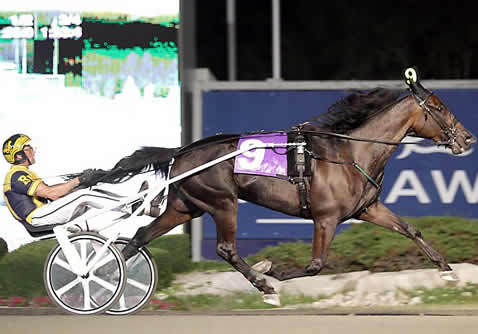 San Pail used a quick turn of foot to take the lead a half mile from the wire and never looked back to win the 59th edition of Saturday's $730,000 Maple Leaf Trot at Mohawk Racetrack. Haness racing driver Randall Waples guided the seven-year-old son of San Pellegrino to his 43rd career victory and third straight Maple Leaf Trot crown for trainer Rod Hughes, who also owns San Pail with the horse's breeder, Glenn Van Camp.

The brown gelding was a three-length winner over favoured Arch Madness in 1:51.1, a Mohawk track record-equalling mark for older trotters. Hot Shot Blue Chip, at 71-1, was third, beaten six lengths.

The race was won when Waples sent San Pail, who sat fourth early, to the lead before the half-mile mark, cutting a clip of :55. Arch Madness, at 2-5, who held the early advantage, was stunned. San Pail continued his strong trot and extended his lead around the turn (1:23.4) and was never challenged in the stretch.

"I thought that this horse would have to come up with probably a mile of his life here coming out of the nine-hole and going up against the likes of Lucky Jim, Enough Talk and Arch Madness," said Hughes. "This horse was larger tonight though and he proved it through the stretch."

San Pail, who is a two-time O'Brien Award winner as champion older trotter, paid $8.70 to win.

"He is such an awesome horse and he gives it his all, all the time," Waples said. "I can't be happier for the horse, for Rod and his family. The fact that I get to drive him is amazing. As great as the horse is, it takes a great trainer to make him a great horse."

It was the third straight Maple Leaf Trot victory for San Pail, which equals the mark set by Grandpa Jim, who also notched three straight wins in the race from 1969 to 1971.

The victory also makes him a $2-million career earner with the $365,000 Maple Leaf Trot winner's cheque ($2,295,215).