San Pail charged through the lane to collar Arch Madness several strides before the wire and win the $300,000 Nat Ray Invitational in 1:50.4 on Saturday (August 6) at Meadowlands Racetrack. Lucky Jim was third.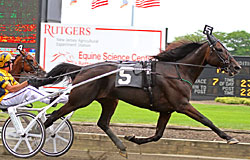 USTA/Mark Hall photo
San Pail collared Arch Madness in deep stretch to win the Nat Ray Invitational in 1:50.4 Saturday at Meadowlands.
Driven by Randy Waples, San Pail was sent off at 2-1. Arch Madness was the even-money choice.
Winning Mister went to the front from post nine and led to the quarter, reached in :27. He remained on top as the field hit the half in :55.1, but Arch Madness was on the move first over to take the lead before the field reached the final turn and the three-quarter marker of 1:23.1.
Arch Madness remained in front at the top of the stretch, followed by Lucky Jim and San Pail. San Pail moved down the stretch to win by 1-1/4 lengths.
Rod Hughes trains and co-owns San Pail with breeder Glenn Van Camp. He is a 7-year-old gelded son of San Pellegrino who has earned more than $2.35 million lifetime.
"He brings a tear to my eye," Waples said. "It's been an honor to sit behind him and an honor to see how he's progressed through his life. It's been a bigger honor to work for Rodney and Mr. Van Camp. Rod has done such a tremendous job with this horse. He always wants to push the credit onto somebody else, but he's with him seven days a week, 365 days a year. I'm there once a week as a warm body."
San Pail, the three-time Maple Leaf Trot winner, has won nine of 11 races this year. He has won 44 times in his career.
"We thought if everything looked good after the Maple Leaf Trot we'd come down here and let them know how good this horse is," Hughes said. "We didn't travel last year, and that was my decision. This year, it was my decision to come and here we are. We're just showing you that this horse is legit."