Driver Ron Pierce engineered a perfect trip for partially Canadian-owned Muscle Massive, who managed to wear down favourite Lucky Chucky in deep stretch to win the 85th edition of harness racing's $1.5 million Hambletonian for three-year-old trotters.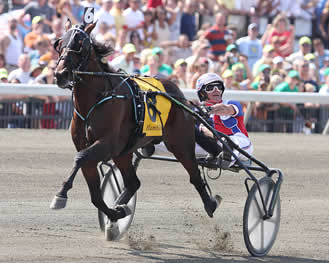 A cavalry of horses vied for early command in the first turn with Cassis (Tetrick) gaining the front and Muscle Massive settling into second as the first quarter was reached in :27.1. Hard Livin (Gingras) was just in front of Lucky Chucky (John Campbell), who was flushed out of fourth and forced first up into brisk fractions as Cassis hit the half in a blistering :54.3.
Sensing the leader was vulnerable, Campbell accelerated his attack through three-quarters in 1:22.2 and forged to the lead at the head of the lane. Pierce was licking his chops sitting the pocket the entire mile and loaded with trot. A classic stretch duel ensued as Pierce and Campbell asked Muscle Massive and Lucky Chucky for everything they could muster. With mere metres remaining, Muscle Massive was able to wear down the favourite by a half-length in a lifetime best 1:51. Wishing Stone (George Brennan) finished third.
"The trip worked out great. I scored the horse down and I've never seen him as good," said driver Ron Pierce after winning his third Hambletonian. "Jimmy said he was pointing him for this race, the trip worked out and he did the rest. My colt was just loaded, I wasn't worried at all in the stretch."
Pierce deflected much of the praise after the victory.
"I'm lucky. I drive a lot of good horses for a lot of good trainers and owners. The horses make me look good."
"This is the race everybody dreams to win. To win it twice is an unbelievable privilege," said trainer Jimmy Takter, who won it with Malabar Man in 1997. "My horse had some mishaps at 2, my staff did a great job with him this year, and Ronnie was patient with him. A 1:51 mile is fantastic achievement for this colt."
For those who don't know what it's like to experience having a horse in contention in the stretch, Takter related his feelings.
"It's a wonderful feeling. The stretch for me went in slow motion. The last quarter was like five minutes for me."
Bred by New Jersey's Perretti Farms, Muscle Massive notched his fourth win in eight seasonal starts for owners Marvin Katz, Sam Goldband, Al Libfeld and Louie Camera, all of Ontario, and Order By Stable and Brixton Medical Ab, both of Sweden. A $425,000 yearling purchase in 2008, Muscle Massive (Muscles Yankee-Graceful Touch) is the first yearling sales topper to win the Hambletonian. The win also marks the third straight win for sire Muscles Yankee in the trotting classic, following wins by Deweycheatumnhowe (2008) and Muscle Hill (2009).
The Hambletonian may be deemed America's Trotting Classic, but its global significance continues to grow.
Record European wagering helped produce the third highest harness handle in history on August 7 at Meadowlands Racetrack. Total all-source wagering on the 15-race card was $8,391,600, trailing only the $8.8 million wagered in 2002 and $9 million wagered in 2005.
International wagering was nearly $2.4 million, up sharply from the $1.97 million wagered on the 2009 simulcast. The Hambletonian was part of a seven-race bundle beamed to France, Monaco, Germany, Austria and Switzerland. The first 10 races from the Meadowlands were sent to Sweden, Norway, Denmark, Finland, Estonia and Malta.
A crowd of 26,712 turned out on Saturday, and the attendance was an increase of nearly 4 percent over the previous year and the highest since 2006.